OUR ARCHITECTS' CHOICE FOR STONE & BRICK
With a huge variety of stone veneer options suitable for every style of architecture, Eldorado Stone has been our architects' favorite choice for interior and exterior applications.
Explore the Latest in Stone & Brick
---
Beautiful natural details are increasingly favored in new home construction, and many people are choosing to update their existing homes to create more organic designs. One of the most popular ways to increase rustic and homey appeal is to incorporate stone accents. Whether you're looking to add just a few natural touches around key areas of interest such as fireplaces and kitchen islands, or you really want to make a statement with a larger project, you should explore your color, style, and installation options. Here are some things to consider, and some products that will make it easy!
---
The difference between a boring interior and a beautiful one isn't completely decided by what you put into it—consider how you finish your spaces before bringing in window treatments, rugs, furniture, and artwork. You can add variation with colors and textures to create a backdrop that draws the eye on its own and adds depth and character to the room. Stone elements accompany all sorts of schemes with awesome results, so check out some ways to incorporate them!
---
Have you ever been wowed by centuries-old architecture, anywhere in the world? No matter the location or style, you'll probably feel that it has some sort of connection to the land greater than the fact that the building happens to reside where it does. The natural resources of the area, including those from local forests and quarries, provide a lot of that style and personality! While we can ship materials from around the world to complete projects these days, choosing to build your home with a regional aesthetic will help it fit into its surroundings. Your choice of stone heavily influences the vibe of a house, so shop with this in mind if you want your new home to fit right into its lot.
---
It's time to bring the exterior and interior of any build to new heights! You can easily upgrade its appeal and value by using some stone accents throughout. Veneer is a cost- and labor-effective option suitable for all sorts of applications; this lightweight product is crafted using molds of real rock or other materials and hand-painted to a unique, authentic finish. Because of this, a natural look at an obtainable price level is achieved. With so much variety, you'll find the perfect look for each part of your build—here are some of our favorite areas and products.
---
When homeowners decide to design with stone elements, they find practically limitless variety. We control cut and texture to a certain extent, and nature presents us with an overwhelming number of colors. Have you considered the ambiance you want your stone accents to support, and how they'll interact with the rest of your space? Here are some points to keep in mind to ensure you choose a stone palette with the right tone, temperature, and level of contrast!
---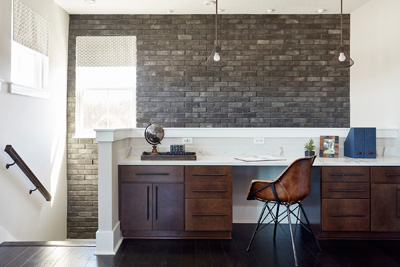 If the thought of using stone and brick in your contemporary or modern home seems too traditional or old-fashioned, you haven't seen the fresh new looks available these days! Both materials have long histories and have transformed with the rise of new technologies and aesthetic demands, so there are plenty of options out there. See how to pick and apply the perfect stone or brick veneer for your design.
---
All Stone & Brick Articles