Incorporating Stone and Brick in Modern Designs
by Rachel Lyon, Editorial Director for The House Designers®

If the thought of using stone and brick in your contemporary or modern home seems too traditional or old-fashioned, you haven't seen the fresh new looks available these days! Both materials have long histories and have transformed with the rise of new technologies and aesthetic demands, so there are plenty of options out there. See how to pick and apply the perfect stone or brick veneer for your design.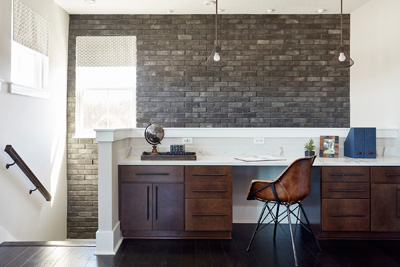 TundraBrick

®
is a classically shaped profile with all the surface character you could want. Slightly squared edges are chiseled and worn as if they'd braved the elements for decades.
Find the Right Product
Choosing any stone or brick comes down to three main qualities: shape, color, and lines. Considering the relative simplicity of modern design, it's typically easier to shop for this style than others. You can't go wrong with precise rectangular edges, whether the pieces are long and linear or big and blocky in nature. That's why brick is perfectly suited to contemporary applications, and why stone varieties that emulate the look are popular. The defined lines between pieces complement brick's defined style, and you can choose to keep them subtle with a dry stack look or use visible grout lines for higher impact.

Preferred colors range from gentle to striking neutrals with varying levels of contrast. If you're looking for a warm effect, tans deliver. Soft grays are a common choice if you need a cool tone. The far ends of the spectrum are undeniably stark and not seen as often in residential settings. Used inside, large white blocks have an industrial vibe, while dark hues require very bright and open rooms to ensure they don't visually shrink the space. On the other hand, the lightest and darkest colors make wonderful additions to an exterior design. If you need some inspiration, check out this Modern Collection and remember, it's always good to ask a professional for advice before you commit!
With a bright and warm feel, this
European Ledge

®
in Cottonwood is a great addition to a contemporary or transitional space. Its linear cut and varied surface texture offer depth and balance.
Decide Where to Apply
Just as with traditional homes, you'll find modern homes incorporate stone in a number of places. Fireplaces are a common area due to their practicality and a designer's ability to adapt it to their needs. It might extend to the ceiling for a dramatic chimney effect or lengthwise across the wall to help give structure to an open floor plan. Whole accent walls are another popular choice made by many homeowners. Backsplashes and columns are also good points of interest to consider. Be sure to keep the overall picture balanced—stone is a beautiful highlight in an interior setting, but too much of it can overwhelm a design.

Stone's flexibility also applies well to exterior designs, where it can be used for accents or whole swaths of siding, and you can mix and match different types and colors for those purposes. What looks best depends on the style and structure of your home. Contemporary designs with modular forms pair nicely with large block siding. Prairie-style homes look great with linear and highly textured stone accents that cater to the natural aspect of organic architecture. While different styles within each category might call for different types of products, you can always start by taking a step back and identifying the underlying shapes of your home to see how you can divide and dress it up.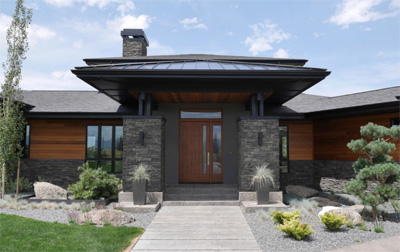 Stacked Stone
in Chapel Hill
®
delivers contrast to this Prairie home with its color, texture, and random pattern. Used on columns and around the base of the siding, it punctuates the design with sturdy right angles.
Choose a Pattern

Whether your building blocks are uniform or come in a range of dimensions, it's up to you to decide how to lay them. A running bond is typical for bricks and similar stone varieties, but you can explore different patterns or cut pieces to mix it up. The possibilities are endless—you might be surprised to see how different bond patterns, like basket weave or herringbone, can affect a space. Always consider the lines you create and whether they complement or compete with the rest of the design you have planned, because you don't want anything to clash, especially a permanent fixture like stone veneer.

Stones that come in a variety of shapes and sizes are made for random patterns, especially those with rougher pieces that mimic stones you might find in nature. Laying the pieces randomly not only gives an organic impression, but it keeps visual flow from halting anywhere around the application. When you focus on clean lines everywhere else, this softens the overall design to make it more relaxed.

Whether you need brick or stone for your modern design, Eldorado Stone has a variety of gorgeous stone veneer options in every cut, color, shape, and texture you could want. Need some direction? Check out their Design Services and discuss your project with one of their stone experts. Just because your home has modern or contemporary style doesn't mean you can't give it some oomph with these time-tested materials!