Designing Your Stairway
When it comes to designing your stairway you have plenty of design and style options, but first you need to decide whether to go with a prefabricated staircase or custom staircase.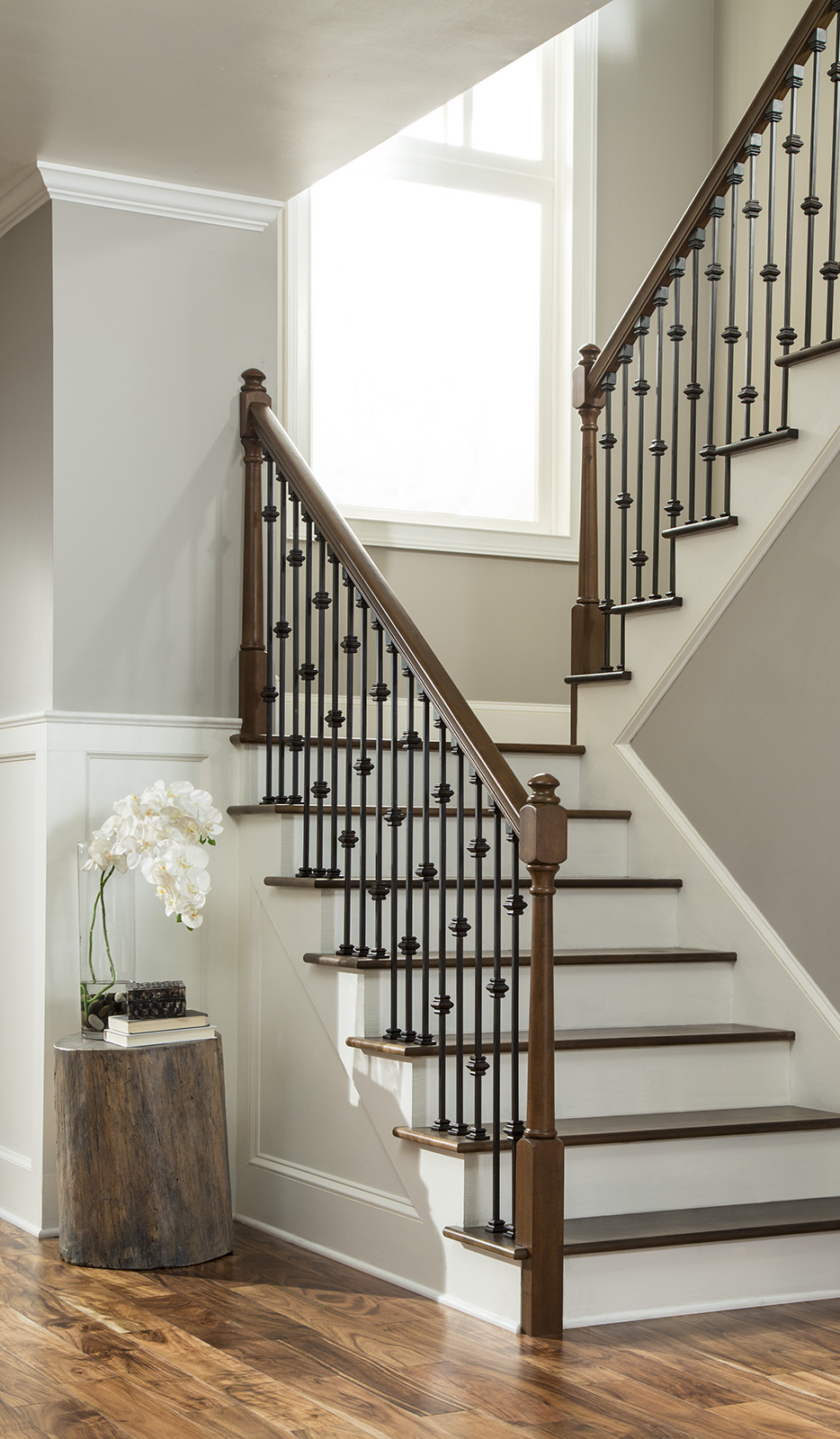 Design your staircase with balusters and newels from Crown Heritage
®
. The staircase pictured here features
wrought iron balusters
and 4040 newel.
Prefabricated stairs are manufactured in a factory and shipped either as flat-pack or pre-assembled. They are a great low-cost option, but make sure you contact the staircase manufacturer before you build, so you know the standard prefab staircase size. Although these staircases are ready to assemble, this is definitely not a do-it-yourself job. You will need to have your builder install it on site. You can save up to $10K by installing a prefabricated staircase.

If you're looking for something more than the traditional L-shaped or U-shaped staircase, you'll want to explore a custom curved or spiral staircase. Fortunately, there are many custom stair manufacturers that offer pre-assembled and custom designs so you can get the look and style you want from your stairway.

Types of Staircases:
Classic — this is a design that reflects a particular era, such as Victorian, Georgian or Edwardian. They are solid, and have elaborate decoration and are usually made from wood.


U-Shape — this style of staircase uses Feng Shui design principles and is great for tight spaces as it is very compact in size.


Contemporary — these staircases have sharp, clean lines and use materials such as stainless steel, glass, and timber to create modern designs.


Centre carriage — centre carriage staircases use an open riser construction with a central carriage stringer and a combination of contemporary materials and timber to make L-Shape, U-Shape and curved configurations.


Spiral — this is an excellent way of creating an architectural statement while fitting into tight spaces. The curved treads with a larger footstep.




Understanding Stair Parts

It makes it easier to design a staircase when you understand the lingo. Here is a list of the main components of a staircase and their meaning:

The step is composed of the tread (the part of the step that is stepped on) and riser (the vertical portion of the step between steps). In some designs the riser may be missing to achieve an open stair effect.

The railing system consists of the balustrade, which is the name of the complete system of railings and pickets that prevents you from falling over the edge.

The balustrade is the complete system of railings and pickets, which consists of the banister (handrail) balusters (vertical supports for railing), newels (larger balusters used to anchor the banister). You can choose from over 100s of baluster designs in wood or iron (black, nickel, copper or brass finish). Don't forget to decide whether you want a balcony or just a small landing.