The latest issue of Green Builder magazine features more than 25 new green house plans from the leading architects and designers at The House Designers. The house plans are designed with innovative materials and systems that promote healthy living. All these designs feature timeless architectural styles and practical/flexible layouts to ensure years of comfortable living.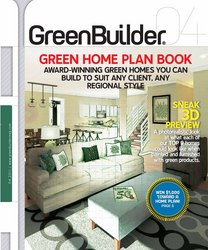 Each house plan contains technical detailing so you can build an energy-efficient home. You'll find these homes are designed with SIPs and ICFs, optimal framing and spray-foamed attics to provide total home comfort and efficiency.
Fantasy renderings were designed for each of the top "editor's choice" plans so you can see what the home might look like when completed with eco-friendly furnishings.
Green Builder choose these plans from a collection of over 40 winners in a green house plan competition offered exclusively by The House Designers, which features the only collection of ENERGY STAR approved house plans.