You'll have plenty of space for everyone and everything with these 4 car garage house plans! As our vehicles and equipment needs grow, we are constantly searching for more creative storage areas. Tight traditional garages that may have worked in the past no longer make the cut!
The moment you drive up to your home after a long day should be accompanied by a sigh of relief. This relief is too often short-lived, overcome by anxiety when you have to maneuver your car into the garage… Watch out so you don't dent your door on the lawnmower or a stray bicycle! Just imagine a world where getting to and from your car is a breeze. With these spacious 4-car garage plans, that dream can become your reality.
Say 'goodbye' to squeezing in and out of your garage, and say 'hello' to these fresh and popular 4 car garage house plans now!
A Favorite 4 Car Garage House Plan with a Breathtaking Interior
A wonderful Craftsman-style plan, this home boasts the 4 car garage of your dreams and a ton more! Large or growing families will especially love this spacious design. With the included finished basement, it offers almost 7,000 square feet of living space and up to 6 bedrooms! Vaulted ceilings and sharp lines add a refined sense to the interior. Meanwhile, exterior gables and large windows give it a welcoming and inviting feel. You'll notice how attention was paid to details spanning every inch of this home.

Family Friendly Homes with 4 Car Garages
Searching for the perfect home for your family can be an especially challenging task. That's why we're here to help!
Every family has a unique style and list of must-haves. So how can you find that perfect home plan for your household? Look no further than these family-friendly and spacious 4 car garage house plans that can accommodate the kids' vehicles, too… whenever that time may come!
THD-9734 – Inverted 2 Story with Cozy Indoor and Outdoor Eating Areas
Many of today's families find they no longer need a formal dining room. Check out the way this designer gave the dining area its own unique space while still providing the kind of open-concept design customers adore!
THD-6059 – An Entertainer's European Dream Home
This French country house plan will impress from the moment you step inside. But as you make your way downstairs, prepare to find something truly fantastic!
Any entertainer would be happy to discover the theater room accompanied by a bar with its own wine closet! And after eating all that popcorn, you can burn some calories in the private home gym.
THD-7563 – Ideal for Outdoor Relaxation
The perfect sunroom offers a lot to homeowners. Experience for yourself the rejuvenation and health benefits that spending some time outdoors provides. You can "get some fresh air" without leaving the comfort of home! Check out this plan — the screened and covered porches, and the separate breakfast patio, allow you to move throughout various spaces when the weather and temperature permit!
There are so many possibilities. Enjoy the sunrise with a steaming cup of coffee, or sip a nice wine while the sun sets without annoying bugs ruining the night. Our customers love a home with a good sunroom, and we think you will, too!
The Lovable Elegance of Traditional 4 Car Garage House Plans
Join the beauty of modern amenities with a large and elegant house plan — you'll get an outstanding home brimming with charm! Open concept floor plans have become increasingly popular, but still, traditional spaces remain iconic in home design. A focus on each individual room allows for more customization. Thankfully, our great architects see the benefit of both of these interior layout types, and have crafted some innovative homes that you'll love!
If you like the idea of having a formal living area along with casual living spaces, then check out these hidden gems — 4-Car Garage House Plans with Formal Living Rooms.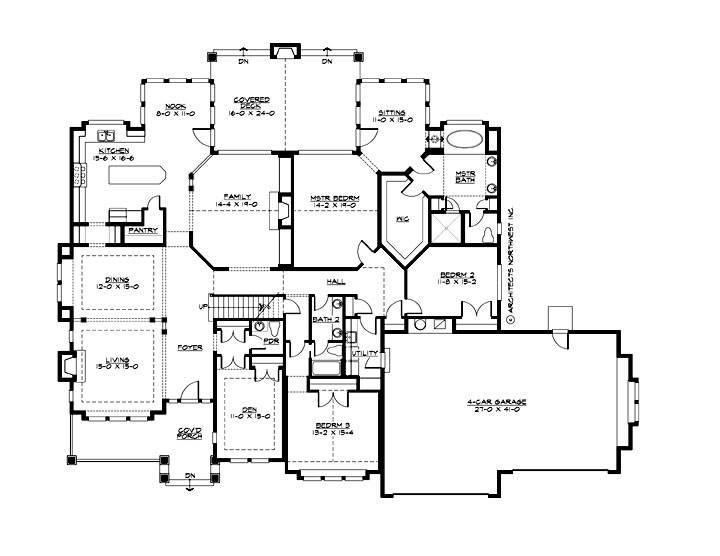 A Sleek, Modern Masterpiece
Airy, open, and bright, modern plans such as THD-5550 are especially great for view lots. Make the scenery around you come alive with numerous large windows on key walls. You'll feel at one with nature as you take in sights from every corner of your home. The large windows and spectacular outdoor living spaces of this design make it totally enjoyable no matter what room you're in.
Even contemporary plans can be exceedingly elegant. In this case, homeowners can't get enough of luxurious additions like the master en-suite that redefines relaxation. Meanwhile, the kitchen's oversized appliances and generous storage/countertop options are like something from a chef's dream! All of this functional beauty sits atop a 4-car drive-under tandem garage that provides ample storage and spacious parking.
Worried about staying on budget? Have no fear! As always, if you ever have any questions or need help finding your dream home and garage plans., please don't hesitate to reach out. We are always happy to help customers start, continue, or finalize the search for that perfect plan!
Latest posts by Christine Cooney
(see all)
Please follow and like us: