As you search for your dream home, consider our extensive collection of popular cottage house plans! These homes include a variety of floor plans to serve our customers' unique styles and needs.
This collection includes cozy cabins, inviting bungalows, and an assortment of large yet still warm and welcoming designs. Whether you need a cottage for a family, guest quarters, or even vacation use, we have lovely options. Thanks to this amazing diversity, you are sure to find cottage house plans that fit your wish list and budget!
Popular Cottage House Plans Come in All Shapes and Sizes!
With plans ranging from single-story to multi-level designs, with compact to sprawling footprints, you can construct virtually any kind of cottage. There are countless types of cottage home floor plans on the market. However, most cottage designs tends to fall under one of four categories, including:
Vacation cottages
Victorian-style cottages
Bungalow/Craftsman cottages
Hillside cottages
Make sure you understand these different styles. Once you know the benefits and specific vibes of each, you can begin to choose the best design for you.
Vacation Cottages
Vacation cottages can be used for just about anything. From weekend retreats to holiday getaways, these homes are super flexible! They also offer spaces like inclusive family rooms, verandas in front, and covered porches in the back. Often, vacation cottage designs also include cozy dining rooms, modern gourmet kitchens, multiple bedrooms, and outdoor entertainment spaces.
Victorian-Style Cottages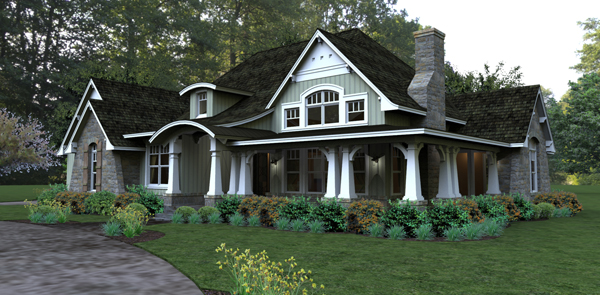 When it comes to Victorian-style cottages, their floor plans typically feature vaulted ceilings, covered front entryways, and more intimate galley-style kitchens. Don't forget the beautiful decorative details throughout, such as the trim, columns, and arching windows seen in THD-4838 (above).
Bungalow and Hillside Cottages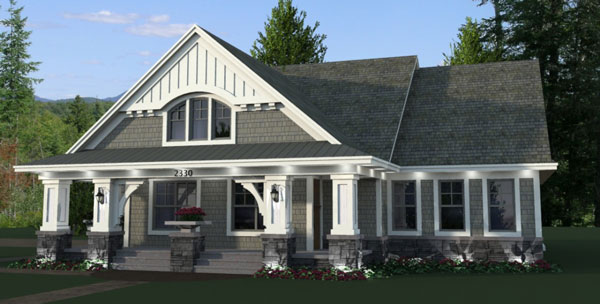 Contrast that with bungalow cottages, regional renditions of which are popular around the country. They have unmistakable character and feature hipped roofs or gabled roofs depending on location. Windows are grouped together in a way that makes sense for tight lots and to allow more natural light indoors. At the same time, the requisite overhanging eaves reduce solar heat gain. You can also find large covered porches on these plans.
And finally, hillside cottages are designed to sit on sharp or steady inclines, as the name implies. They typically have features like walkout or daylight basements, large decks and balconies, drive-under garages, and spacious living rooms with plenty of windows to take in the view.
All the Style with the Perfect Square Footage
If you prefer, our vast collection of popular cottage house plans can be filtered by size! Big or small, each plan is designed to be comfortable and totally unique. This makes it so much easier to find the home perfect for you!
Tiny Cottages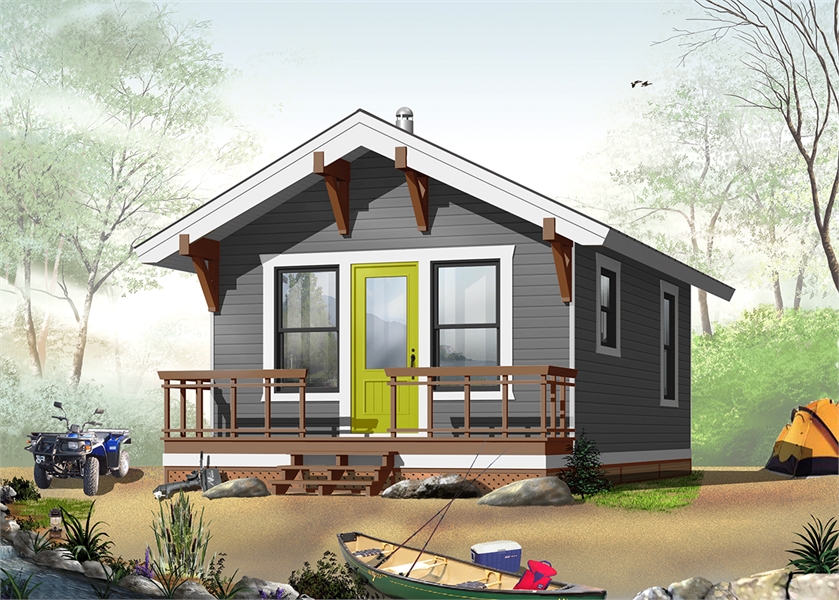 The rise in demand for tiny cottages has increased exponentially in recent years, and for good reason. Not only can you save money during the build, because a smaller home needs fewer materials and land, but the savings continue throughout the life of the home. Less square footage means less money spent on heating and cooling bills. And think of the time you'll save when you don't have as much space to clean compared to a bigger house!
Medium-Sized Cottages
If you want some more space, fear not! There are plenty of small and mid-sized cottage homes to choose from. These designs are our most popular cottage homes, and you'll generally find enough bedrooms for a family, spacious kitchens, and extras like home offices. Bonus rooms are popular in these homes, too. You can usually find them above the garage.
Large Cottage Homes
Large cottage homes have it all! Everyone can enjoy their own space in a home this size. Many of these floor plans include things such as multiple master suites for privacy and multiple living spaces to provide plenty of room for entertaining. A media or game room will really keep the party going!
These designs also come with an incredible amount of storage space, making it easy to keep your home picture-perfect and clutter-free. Like having guests? They'll love if your home has a fully private suite available. Some of these popular cottage house plans even have private apartments for long-term guests!
There are so many cottage plans to choose from. They're available in all sorts of sizes and styles, and we have them all! Whether you are planning a vacation home, building a guest cottage, or constructing your permanent residence, the right design is out there. It's just a matter of putting together your must-have list.
We are excited and ready to help you find your dream home. If you have any questions or want to learn more about navigating the home search, feel free to reach out. We can't wait to show you the world of home plans!
Latest posts by Christine Cooney
(see all)
Please follow and like us: