Building a single family home is challenging enough, but some opt for the greater challenge of building multi-family or duplex house plans. From land considerations to budgets and must-have lists, you need to stay organized. Let's go over some of the issues that you may face when building a duplex home. Plus, you can check out some of our most lot- and budget-friendly duplex house plans here, too!
Duplex House Plans for a Challenging Lot
Building on a difficultly shaped or narrow lot? No need to fear, because TheHouseDesigners.com has you covered! We offer multi-family home plans as thin as 18 feet across, and others with depths as shallow as only 28 feet!
Years of practice, expertise, and customer feedback have helped our designers create the ideal collection of duplex style house plans. Thanks to all this, our homes maximize square footage in all the right places. Many duplex homes offer multi-story layouts, often with drive-under garages that maximize square footage without sacrificing useful garage space. If you have the room to sprawl, you can find plenty of well-appointed one-story duplexes, too. Flexible thinking makes these homes ideal for the day-to-day lives of all sorts of owners, and it keeps them builder-friendly as well.
Crystal Springs Duplex – 30 Foot Depth
If you're lucky enough to have a wide lot, but it lacks depth, this "shallow" design may be just the one! With a depth of only 30 feet, this duplex offers all of the must-haves for a variety of buyers. Empty nesters will enjoy the additional bedroom for visiting guests, a workout space, or an office. Young owners love having their own master en-suite and walk-in closet. Plus, the garage means additional storage and parking space that everyone loves!
Glenview – 4,900 Square Feet Total, 50 Foot Width
For those looking for a bit of wiggle room, the ample square footage of Glenview is a welcomed feature! Each unit boasts square footage similar to today's average single-family home, so you'll have plenty of room to spread your wings. And with a width of 50 feet and a depth of 64 feet, this duplex will fit on so many lots. Take a moment to appreciate the layout of the second floor; you'll find 3 family bedrooms, 2 full bathrooms, shared loft space, and the laundry room. You'll appreciate a well-thought-out floor plan such as this every day. On the first floor, the open-concept living, dining, and kitchen space, and the multi-functional den, will serve you well, too.
Budget-Conscious Multi-Family Homes
Determining whether a specific home plan will be affordable can be tricky. It's especially difficult for those who do not work with blueprints regularly. However, there are a few key features that, if kept in mind, can help even the most novice home plan browser feel competent to make a good budget-conscious choice. Consider building up instead of out, keeping your build as square as possible, lowering the roof line, and cutting unnecessary square footage.
For a more in-depth look at how to determine a home plan's affordability, head on over to "Cheap to Build Home Plan – 4 Ways to Save Big". This quick read will have you feeling like a home plan professional in no time!
Notable Twin Affordable Craftsman
Not to be overlooked, this affordable Craftsman-style home is a dream for anyone building an income property. With a compact footprint, it can be built on nearly any lot, saving money from day one! The rectangular shape with two stories creates even more affordability for the square footage. Not only will you be happy, but your tenants will be as well! The open-concept first floor with a powder room off the foyer is perfect for entertaining. The 3 bedrooms and 2 full bathrooms upstairs make this home accessible to larger families or roommates.
Popular & Affordable Eye-Catching Duplex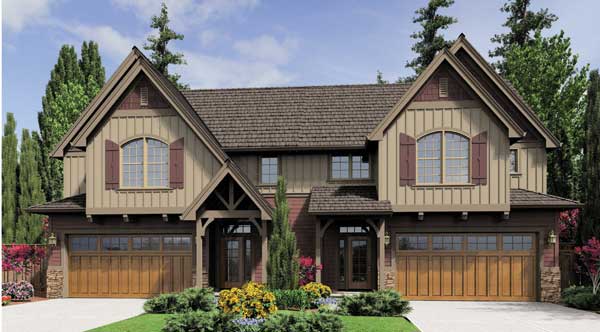 You'll love this two-bedroom duplex! This stunning home boasts a completely open concept design. This, plus the numerous windows, large kitchen, and corner fireplace feature make it one of our most sought-after duplex house plans. Ample storage space and a vaulted ceiling in the living room create an air of class and elegance, but the design maintains an affordable price tag. Plus, each unit has a two-stall garage – a huge perk for those building in snowy climates!
Looking for more, or a more modern approach? Check out our November 2019 highlight, "6 New Modern Duplex House Plans".
Latest posts by Christine Cooney
(see all)
Please follow and like us: