When purchasing your house plans, you are probably looking forward to stepping through the front door of your new home. Imagine the flooring you will be stepping on. Is it tile, carpet, or hardwood? Hardwood floors are one of the most sought after commodities when people buy a home. So if you are building a home it is logical you might want to consider laying down some hardwood floors throughout your new home. The real question is, do you go with prefinished or unfinished hardwood flooring.
The difference between prefinished and unfinished hardwood flooring is simple. Prefinished hardwood is already coated with polyurethane and ready to be installed. Unfinished hardwood panels are raw wood that need to sanded and polished.  Here are some advantages of both.
The Pros of Unfinished Hardwood
Unfinished hardwood has several benefits, including smooth edges. Prefinished hardwood often has a slightly beveled edge that can create slight grooves in the floor. The other benefit is that it can be color-matched to existing hardwood within the home. Additionally, unfinished hardwood also costs a little bit less. With unfinished hardwood floors you are paying less for the wood and more for the labor. The wider you go for the planks, the wider the difference in price.
The Pros of Prefinished Hardwood

There is less maintenance involved with a prefinished hardwood floor. An unfinished hardwood floor usually has to be coated two to three times with a polyurethane finish.  A plank of prefinished hardwood floor plank is coated with five to six coats before it leaves the factory.  As such, these planks do not need to be sanded or refinished as often. As an added benefit, when installing it, you don't have to worry about sanding or finishing the floor. You can install the flooring and walk on it the moment you finish. Not to mention, most prefinished flooring jobs can be done within one to two days.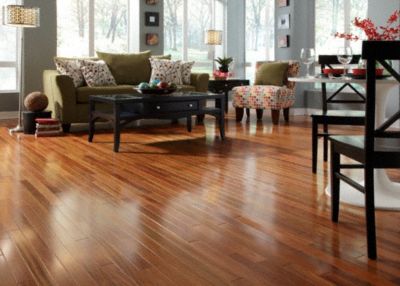 When it comes to installing hardwood flooring, the decision between prefinished and unfinished hardwood flooring is completely a matter of preference.  You need to weigh what is the most important to you and make a decision.  One thing is for sure, a hardwood floor is preferable on the housing market and you can't go wrong with a hardwood floor for your home.