Use these laundry room design ideas to create the ultimate laundry room in your new home! We have amazing home designs with laundry rooms on the first floor and/or second floor, so you can find the perfect setup for your needs.
When designing your dream home, it is important to give attention to every single room. While most people put a lot of time into picking the perfect main spaces, they let other rooms get overlooked. One area that may get forgotten, but where you'll certainly spend a lot of time, is the laundry room. Putting effort into designing the perfect laundry room will make chores easier and your life more stress-free.
There are many laundry room design ideas available on the internet. No matter what you want from your space, it all begins with TheHouseDesigners.com. From spacious plans with large rooms and lots of design freedom, to smaller homes with efficient designs, your choice of floor plan will play a large role. Once you understand what you are working with, it becomes easier to incorporate your design ideas. Consider the value that every element of your laundry room will provide.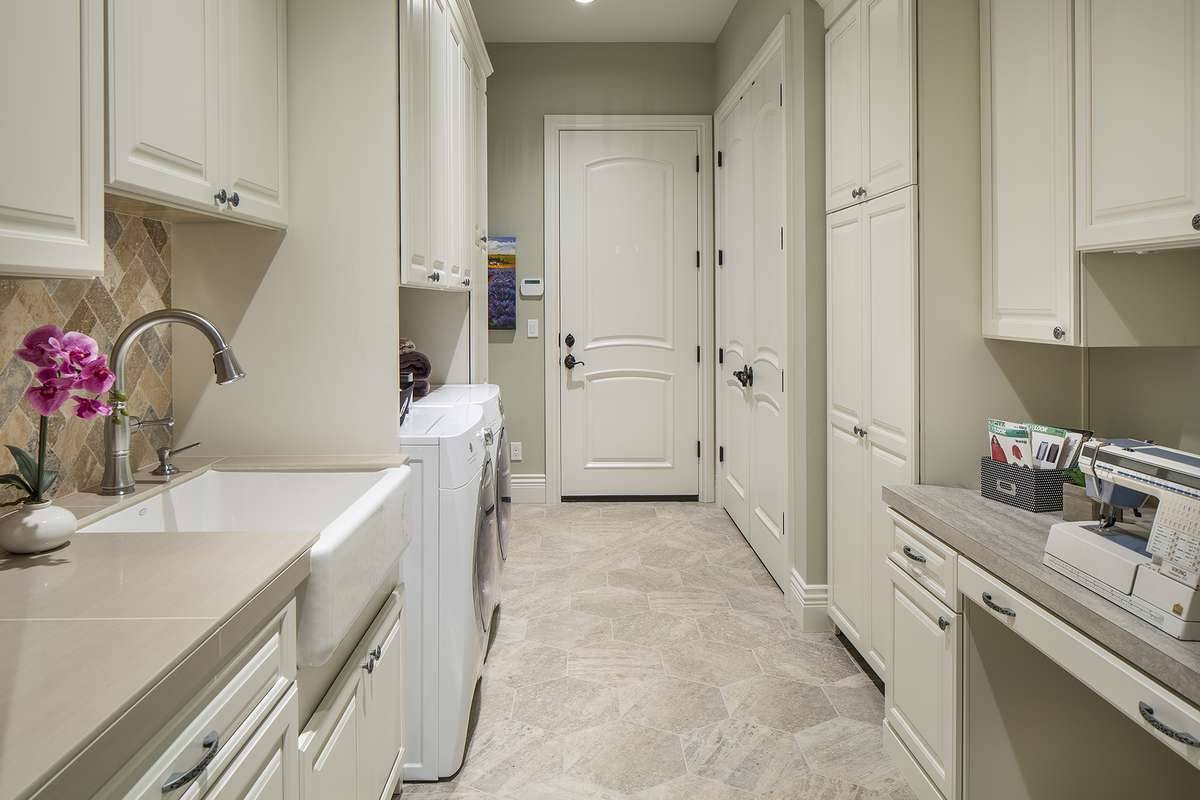 This plan provides plenty of storage opportunities. It allows the homeowner to keep the laundry room clutter-free and conveniently accessible.
Convenient Laundry Room Design Ideas
One of the biggest factors that defines a laundry room is space. No matter the actual size of the room, homeowners often store many different things in here. Search for designs that offer ample storage for detergents and cleaning supplies, seasonal clothes, and any other miscellaneous items you want. Unique additions such as built-in drying racks and ironing boards will add convenience and maximize space. Also consider whether you want to have built-in cabinets and shelving for more structured storage.
Many home plans, like THD-6056 shown above, provide counterspace throughout the laundry room. This allows the space to serve a variety of functions. Another convenient design idea seen here is placing the washer and dryer underneath cabinets. This keeps them nearby but out of the way, and helps open up the room.
There are tons of great and convenient space-saving ideas available online. A few quick searches come up with plenty of tips and tricks. When you find some that you like, make sure to talk with your builder and designer so they can incorporate them into your dream home.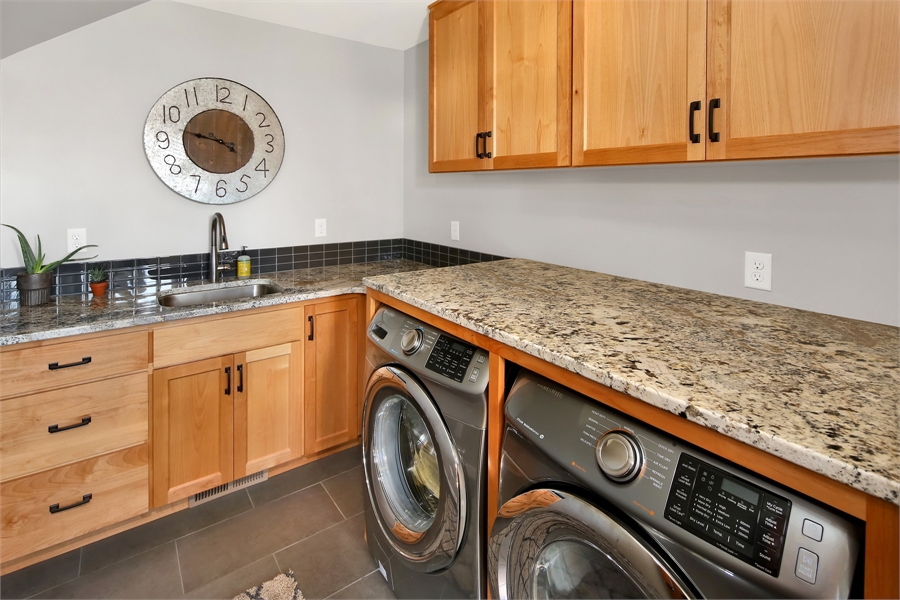 A laundry room with plenty of functional space. It showcases flexibility even in confined interior rooms. Simple additions and features can go a long way!
Seek Multi-Functionality
Did you know that a laundry room can be so much more than a place for weekend chores? Well, it's true; plenty of laundry room design ideas turn this forgotten room into one that serves many purposes. It can be a place for crafts or homework, or even a place to send the kids and pets to clean up from outside. Many homeowners don't realize they can add these extra functions. For pets and kids who love the outdoors, consider including a convenient cleaning station to wash off the dirt and keep it out of your home. Crafts can be a breeze with a laundry room design that offers counterspace, ample storage for materials, and a sink for easy cleanup.
Seen here with THD-7283, even smaller laundry rooms can be useful, multi-functional spaces. Things as simple a sink can have a hugely helpful impact. Any feature that saves time and energy is worth a shot, and can help increase the resell value of your home down the road.
For larger laundry rooms, your extra options will be much greater. If your home plan has a big space dedicated to laundry, consider working with your builder and designer to creatively add multi-functional features. Your laundry room can be so much more with just a few simple changes.
This plan places a mudroom entrance and laundry room close together. With storage for the kids and even an extra refrigerator hookup, the space is very useful and multi-functional.
Keep Up with the Times
Technology is constantly changing, especially with appliances. With the rise of the "smart home," laundry rooms are adapting, too. Beyond new features for washers and dryers, plenty of new appliances are coming to the laundry room. Just recently, companies started to release steaming cabinets and even automated laundry folding machines! Do some research to see what catches your eye. If anything interests you, work with your builder to find spaces and accommodations for this technology.
Large laundry rooms like the one in THD-9772 are extremely flexible and open to many design ideas. With so much space, you can consider adding extra appliances that will make your life easier on a daily basis. Less time spent worrying about chores means more time relaxing and doing what you love. Opting for a plan with a larger laundry room also opens the door for future additions. As technology continues to adapt and change, you can prepare by having the space and flexibility to stay ahead of the trends.
The laundry room can easily be overlooked when designing your dream home. Don't forget this important space, and remember to give it plenty of attention in the design process. No matter how big or small the room may be, there are plenty of creative design ideas out there to give you the perfect laundry room. Putting in that extra bit of effort will go a long way, and you'll thank yourself down the road.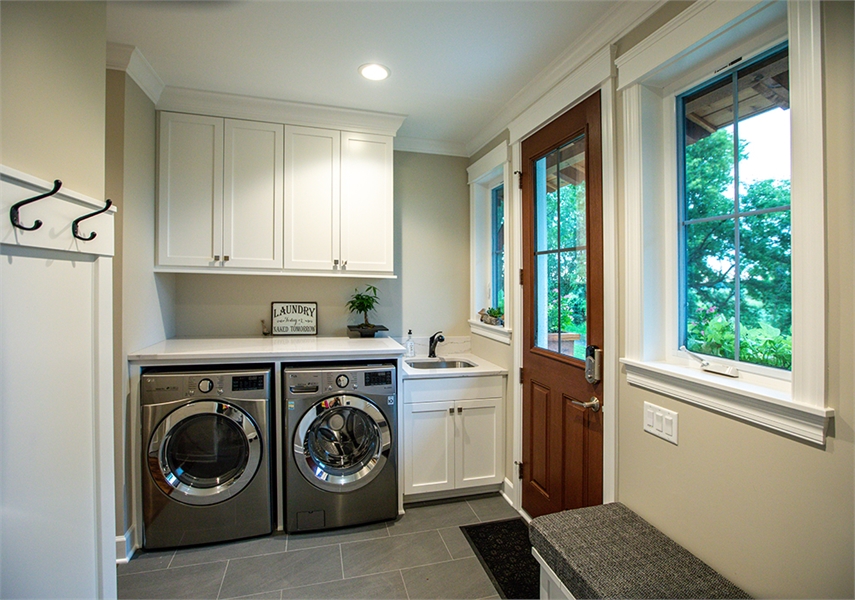 This laundry/mudroom is tucked away to help keep the home cleaner on a daily basis. It connects the interior to the side entrance as well as the garage.
There are plenty of creative laundry room design ideas available, but it all begins with the right home and template. Search through our thousands of creative and unique home plans and take note of what you like. If you have any questions about incorporating your perfect laundry room design or anything else, feel free to reach out. We're always happy to help!
Latest posts by Christine Cooney
(see all)
Please follow and like us: