House plans designed to create indoor-outdoor synergy are some of the most popular for new homeowners. Whether you want to expand your square footage into the fresh air or turn your backyard into a recreation area, the architects and designers at The House Designers have crafted thousands of multi-functional designs that incorporate outdoor living spaces. These spaces include sunrooms, alfresco kitchens, courtyards, and extensive porches, decks, and patios. Bordered by large windows and doors to allow views and natural light inside, you'll enjoy these spaces even if you stay in! 
Indoor-Outdoor Synergy Designed for All Seasons
When searching for the perfect home plan, look for a floor plan that offers a multi-functional outdoor living area to create the perfect personal oasis for year-round enjoyment. Even in colder climates, a fireplace or fire pit can extend your time outdoors into the fall and winter months.
Swimming pools and hot tubs remain popular outdoor features. There's a trend toward saltwater pools nowadays, so you don't have to deal with chlorine if you don't want to! Think you can't swing a pool due to space or budget limitations? Consider a smaller-than-average one. Plunge pools can help you cool off without taking over your whole yard.
Natural Beauty and Durability
Many great decking products are available to ensure that your outdoor space can weather the elements and retain its beauty. The professionals at The House Designers prefer Kebony Deck Board due to its durability, versatility, and eco-friendliness.
According to Kebony, "the Kebony Deck Board is the most versatile wood decking profile on the market. We've engineered a profile that can be fastened in four different ways, making it easy to secure your surface decking according to your needs without added milling or lead time." This is great news for installers and homeowners alike! But perhaps best of all, Kebony Deck Board stands out above the rest because it's made from sustainably harvested pine that undergoes a modification process, elevating it to the performance of tropical hardwoods. That means you can get a hardy deck with minimal ecological impact!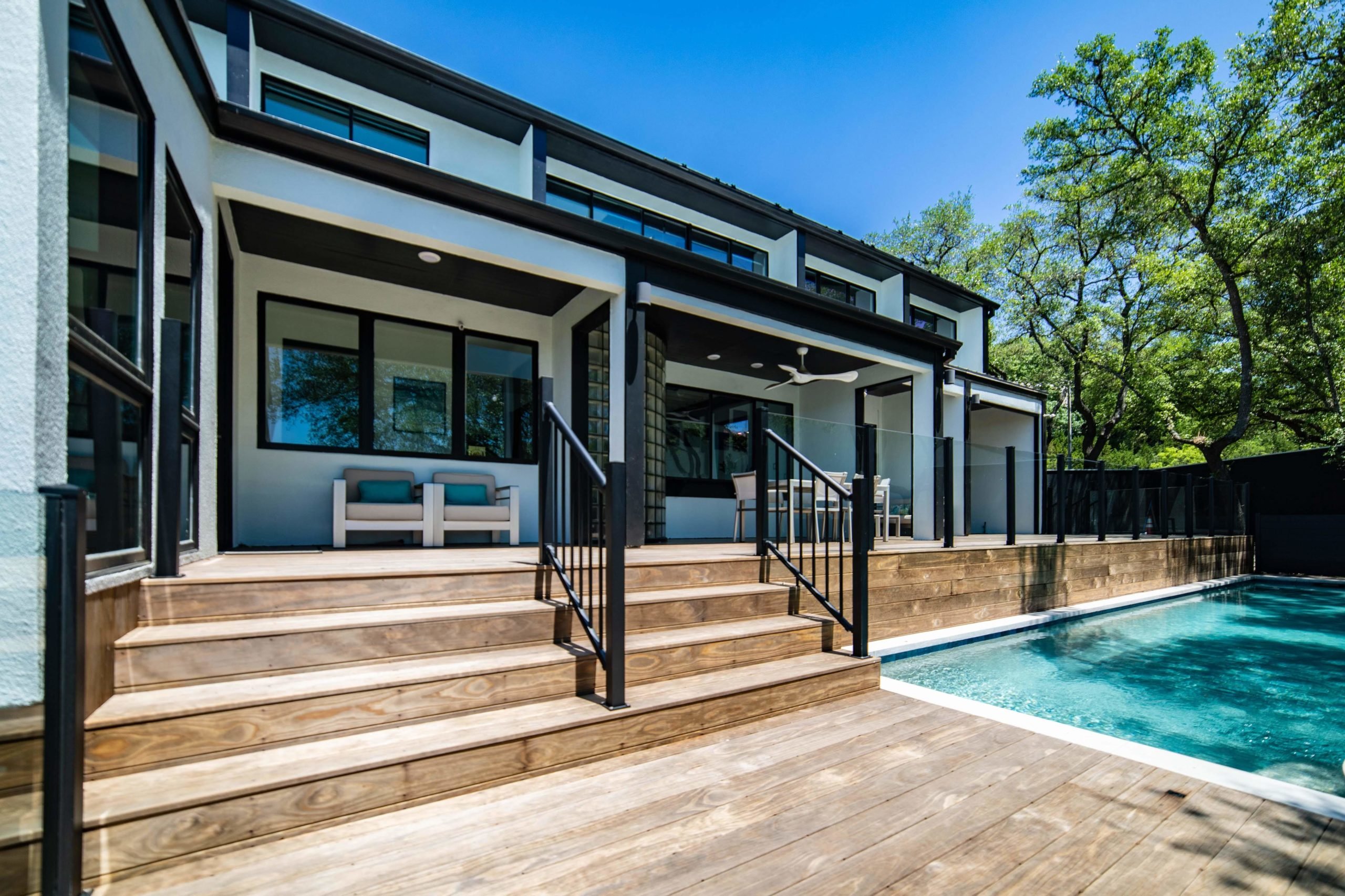 Fully Functional Outdoor Kitchens
Designing a fully functional outdoor kitchen is a great way to bolster your entertaining space. The location of your outdoor kitchen will often be dictated by the proximity to your indoor kitchen and the size and layout of your patio or deck. It's a good idea to ask a professional for recommendations if you plan to build from scratch.
Remember to factor in plenty of work surface and countertop space when planning your outdoor kitchen layout. Design a 'work triangle' with areas for prep, cooking, and serving. If you have the space and utility hookups, add a sink and refrigerator to keep everything easily at hand. In any case, the focal point of an outdoor kitchen is the grill—decide whether you'd like a built-in or freestanding cooking appliance. Either could make a great choice depending on your style!

When you want to build a home with indoor-outdoor synergy, take a look at what The House Designers offers. With a focus on both indoor and outdoor features, you will surely find a design you'll love! Contact our experienced home plan advisors so we can assist today!
Latest posts by Christine Cooney
(see all)
Please follow and like us: